Presidential trip to East Asia highlights IU's engagement in the region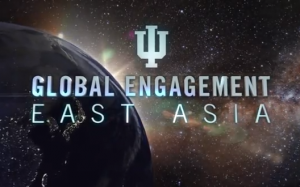 IU's portfolio of "All Things East Asian" is impressive: Our highly ranked academic programs attract large numbers of students from East Asia to the Bloomington and Indianapolis campuses. Each year, the number of IU students that study abroad in East Asia increases—a sign of the region's growing global significance. With our faculty's extensive world-class expertise in East Asian studies, it's no surprise that we attract top students from around the world for advanced study of languages and cultures. Add to this countless programs, centers, and institutes devoted to study and research of the region, as well as long-standing partnerships with some of the region's best institutions of higher education, and we find ourselves positioned among the top universities in the United States for engagement in East Asia.
Listen to President McRobbie describe, in his own words, why these trips matter to IU
It's important, of course, for us to continue to foster, deepen, and sustain partnerships in East Asia so that faculty and students have opportunities for mobility and collaboration—essential in this increasingly interconnected 21st-century world.
This Sunday, President McRobbie begins a 15-day tour of East Asia to advance IU's engagement in Korea, China, and Taiwan. Accompanied by IU First Lady Laurie Burns McRobbie and Vice President for International Affairs David Zaret, the delegation will formally welcome new IU students at events in Seoul and Beijing.
Listen as Vice President Zaret elaborates on the importance of IU's engagement in East Asia
The delegation members will also greet IU alumni at special receptions, meet with business and government leaders, and visit several of IU's partner institutions.
Stay tuned for more updates from the 2013 East Asia Trip.