On a Friday when many college students across Indiana, including many at Indiana University, were leaving for spring break trip to warmer climates in Mexico, Florida and other sunny locales, nearly everyone who is part of IU's Study Tour on U.S.-China Business Cooperation set off very early for the People's Republic of China. A handful of our group left earlier in the week.
Arriving by various means at Indianapolis International Airport for an initial 8 a.m. flight to Chicago, like many others, our minds were on family, friends, colleagues and millions of other people who were affected – directly and indirectly – by the massive earthquake off the coast of Japan and its resulting tsunami moving across the Pacific Ocean.
While our flight from Chicago to Shanghai of course was not affected, we heard of fellow colleagues and students in the IU School of Journalism who had to turn back from their plans to visit Tokyo. Naturally, we also appreciate their disappointment after months of preparation and hope they'll be able to reschedule their trip soon.
Our non-stop flight between Chicago's O'Hare International Airport and Shanghai's Pudong International Airport lasted about 15 hours. Many of us took advantage to get some needed sleep on the plane, which was made more necessary by anticipation for the trip that also made it difficult to get enough sleep the night before.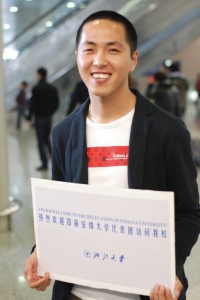 Upon our arrival and quickly clearing customs, we were greeted at the airport by two cheerful representatives of Zhejiang University, one of whom you see pictured here. Their sign, in English and Mandarin, stood out from the many others held by a throng of relatives, well-wishers and limo drivers who formed a gauntlet as we emerged from the international arrivals terminal.
It read, simply: "A warm welcome to the delegation of Indiana University."
With temperatures here in the mid-60s, we began the last leg of our trip, a two-hour bus ride to Hangzhou. Traveling roads similar to Interstate highways in the United States, we observed the visible effects of China's booming economy along our route. New construction was evident, but also there was a clear commitment to utilizing adjacent land for agriculture.
Greenhouses containing intensely planted vegetables were everywhere, as was housing for farm families who maintained the properties. At times this led to interesting contrasts.
For example, an elevated train station for the high-speed rail line that runs between Hangzhou and Shanghai towered over greenhouses and the simply constructed buildings on the ground below. Surrounding all of it were massive billboards for products and services. English can be found along with Chinese on many official highway signs, but not on most billboards.
Our hosts at Zhejiang University continued to show us warm hospitality after we arrived at our hotel, the Hangzhou Jinxi. After dinner we retired to our rooms for much needed rest.
Tomorrow, we will explore Hangzhou, often called "the City of Heaven."
No Comments
No comments. Be the first.
Sorry, the comment form is closed at this time.