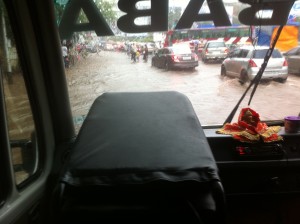 MUMBAI (Saturday afternoon)
There's rain. There's monsoon. And then there's what we drove through this afternoon on 0ur way back from a very productive meeting at the Indian Institute of Technology, Bombay.
Mumbai is heading into the final month of monsoon season, which brings up to a foot-and-a-half of rain – a month – to these parts. So when our driver said he had seldom seen a deluge like the one that doubled the driving time back to our hotel I didn't know whether to be impressed or a little bit worried. Worry won for a few brief moments when the driver decided to "ford" the far left lane of the road, which had been turned into a flash-flood river.
All's well that ends well, and our safe arrival at the hotel a few minutes later prompted President McRobbie to quip to the driver that "(you) drive like Clint Eastwood – and I mean that as a compliment."
Our visit to IIT Bombay started – and ended – well. Although the rain meant a campus stroll was out of the question, our short drive from the main gate to the director's office provided a glimpse of the lush, scenic campus that is home to 10,000 of India's brightest college students, most of them dedicated to engineering and computer science. IIT Bombay was the second of India's 15 technology universities to be established and is considered one of the best IIT schools.
Our meeting was designed to begin a dialogue between the two universities and explore areas of possible collaboration. As is often the case when I travel, I'm struck by the commonality of issues that face organizations in different locations. For example, Like IU, IIT Bombay is looking for ways to increase opportunities for its students to study abroad given the increasingly global world in which today's students will soon be working (trivia for the day: 25 percent of IU Bloomington undergraduate students will do overseas study while on campus.)
One of the most interesting parts of the discussion revolved around areas of common interest in computing and informatics (my thanks to School of Informatics and Computing Dean Bobby Schnabel  who provided this layman with the most succinct description of Informatics he has ever heard: Applied computing). IU has one of the broadest computer sciences schools in the country, with strength in a number of areas including cyber security, which drew a lot of interest from our IIT hosts.
No new deals were reached, but friendships were made – and in the case of President McRobbie and Director of IIT Bombay they were strengthened – and groundwork laid for possible future collaboration between two outstanding universities. In particular, Dean Schnabel and Vice President for International Affairs David Zaret plan to continue discussions with IIT Bombay on partnership opportunities.
And through it all, we somehow managed to stay dry. Mostly.
No Comments

Comments RSS
No comments. Be the first.
Sorry, the comment form is closed at this time.