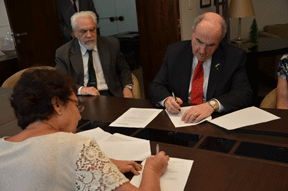 Earlier today, Indiana University became the first U.S. institution of higher education to sign an agreement establishing ties with the renowned Academia Brasileira de Letras (Brazilian Academy of Letters), a distinguished literary society and the foremost institution devoted to the Portuguese language in the world. The agreement formalizes an exchange of Academy members and IU researchers. It also broadens access to significant research collections at both institutions, and for exchange participants, it strengthens access to communities of highly-engaged academicians, researchers, and intellectuals. Ana Maria Machado, current President of the Academy, expressed her gratitude for President McRobbie's support of this important new endeavor for the Academy.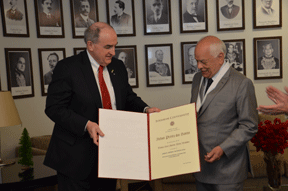 At the signing ceremony, McRobbie recognized legendary filmmaker and Academy member Nelson Pereira dos Santos with the Thomas Hart Benton Medallion. The medallion is given to individuals who have achieved a level of distinction in public office or service and have exemplified to values of IU.
This evening, President McRobbie and the members of the IU delegation attended a reception to celebrate the signing of the Academy agreement at the Casarão (grand home) of famous journalist Austregésilo de Athayde. Coordinated by past president Cicero Sandroni and his wife Laura, the event granted McRobbie the unique opportunity to meet and speak with several of Brazil's foremost writers, university leaders, and intellectuals.
The partnership with the Academy was made possible by IU Professor Darlene Sadlier, Director of the Portuguese Program and Professor of Spanish and Portuguese. Sadlier has long-standing professional relationships with several Academy members, and her impressive body of scholarship, which includes the seminal full critical discussion of the films of Nelson Pereira dos Santos in English, positions her among the top American scholars on Brazilian cultural studies. Sadlier joined the IU delegation in São Paulo and Rio de Janeiro, and she will remain in Brazil for several weeks to deliver talks on her upcoming book Americans All: Good Neighbor Cultural Diplomacy in World War II and the recently released translation into Portuguese of her book on Nelson Pereira dos Santos.