Yesterday afternoon President McRobbie launched the IU Alumni Association chapter for Chile at the Santa Carolina Winery in Santiago. Patricio Valdes (MBA '01), export director for the winery, generously assisted with the coordination of the alumni gathering. Penelope Knuth (BM '77), head of the viola department at the Pontificia Universidad Católica de Chile will serve as the president of the newly inaugurated chapter. View event photos >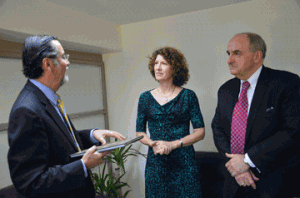 Earlier today President McRobbie met with several administrative leaders at Universidad de Chile, one of Chile's top institutions of higher education. Rector Víctor Pérez Vera received the IU delegation at the university's Andres Bello campus, and he and McRobbie briefly discussed the goals and strategies for internationalization of U de Chile and IU. The delegation then met with Pia Lombardo, Director of International Relations, to continue the conversation in greater detail about specific areas of collaboration that our institutions might consider, specifically in the areas of business, informatics, and international studies. Some potential activities might include exchanges of faculty and students, short courses, customized academic programs, and collaborative research.
To explore two of these academic areas in depth, McRobbie met with the School of Engineering and Science Dean Francisco Brieva and Director of International Affairs Patricio Poblete. McRobbie outlined IU's strengths in information technology and outstanding programs in the School of Informatics and Computing. With several top academic programs in Chile, U de Chile's School of Engineering and Science does share many commonalities with IU, presenting potential collaborative opportunities that will be explored further in the coming months. Afterward, McRobbie met with Associate Dean Enrique Manzur and Director of International Affairs Erich Spencer at the School of Economics and Business. The School has a diverse portfolio of degree types tailored to meet the needs of the Chilean market, and the faculty has broad expertise and an impressive body of research. Beyond the potential for faculty exchanges, the School's growing list of business courses taught in English could be perfect for exchange students: they would be able to take some courses in Spanish alongside some courses in English, a scenario that can help students cope with the stress of coursework in a foreign environment with different expectations and teaching styles. McRobbie and Manzur agreed that both IU and the School would continue the conversation over the coming months about exchange possibilities.
To close out the trip to South America, President McRobbie signed an agreement with the Pontificia Universidad Católica de Chile (PUC), considered one of Latin America's best universities. Before the signing, he and Dr. Ignacio Sánchez Díaz talked about the specific areas of academic strengths at IU and PUC. Both universities will quickly move forward to establish an exchange program for faculty and students in Communications, and additional possibilities for collaborative activities will be explored in the arts, humanities, and social sciences.