Indiana University's reach in Brazil extends beyond connections with academic institutions, as President McRobbie's visit to the Instituto Baccarelli demonstrated. Professor Arnaldo Cohen, a world-renowned pianist at the IU Jacobs School of Music, has previously worked with students at the institute, and Joshua Bell has also performed alongside the institute's orchestra.
What McRobbie witnessed today is the significant role that the institute plays in the lives of children who live in Heliópolis, a favela (slum) that has slowly been improving over the past few years with upgrades to basic infrastructure and special projects such as Ruy Ohtake's design of new community centers.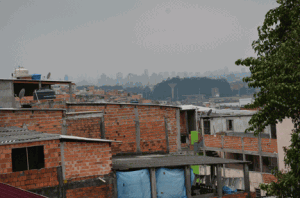 The institute, started in 1996 by musician Silvio Baccarelli in response to a devastating fire in the favela, reaches more than a 1400 young people over the age of seven each year through music education programs. For the youngest participants, instruction focuses on strengthening hand-eye coordination, and for older participants there are opportunities to sing in choirs, take master classes, and perform in the symphony orchestra. Baccarelli's goal was to ease the suffering of the young residents of Heliópolis, with the understanding that giving a young person a hand up would also help their entire family.
Below are selected photos from McRobbie's visit to the institute. The managers of the institute graciously gathered together the students to perform for McRobbie and the IU delegation. Additional photos are also available on Flickr.