Earlier today President McRobbie and the members of the IU delegation braved pouring rains and flooded streets to visit two high-caliber institutions of higher education in the greater Buenos Aires metropolitan area: Universidad Nacional de La Plata and Universidad Austral. Both meetings were exploratory in nature, a simple introduction of our institutions and brief conversation about areas of mutual interest.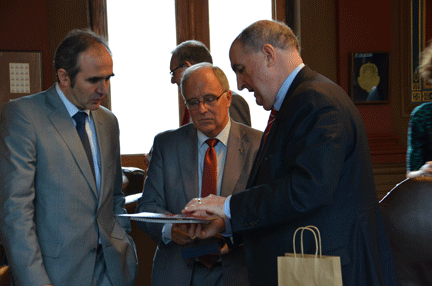 The Universidad Nacional de La Plata ranks among the top public universities in Argentina and has a Museum, considered to be among the best in the world, with millions of important artifacts from the region. President McRobbie is pictured (right) with Vice President Armando Eduardo De Giusti and Dean of Economic Sciences Martín López Armengol.
Universidad Austral, located on the opposite side of Buenos Aires in Rosario, graciously hosted President McRobbie and the delegation for lunch, and both Universidad Austral and Indiana University spoke after lunch about potential areas of collaboration, particularly with their tech park and medical school.
This evening President McRobbie inaugurated the IU Alumni Association's Argentina chapter. The chapter's first leader, business professor Gabriel Lopez, proudly accepted the plaque announcing the chapter's inauguration. View photos >